Celebrating the 50th Anniversary of the 61st A.H.C. and Detachments
Dedicated to the 61st AHC, 616th Transportation, 922nd Signal, 193rd Medical Detachments, 364th Aviation Support Detachment (ATC), and our aviators and crews whose lives were lost for our country and Allied Forces.
- - - NEWS UPDATE - - - * * 2021 Annual Corn Field Reunion Update * *
The 2021 Iowa Corn Field Reunion is scheduled for 9 thru 12 September 2021! First meeting begins at 17:00 on September 9, 2021 at the ICE HOUSE, Clarlinda, IA. Contact Mike Zogleman at (712)-310-4151 or email him at mikezogleman@gmail.com for more information and reservations.
* * "Lucky Star" call-sign over Alabama * *
Former 61st AHC soldiers are very proud the "Lucky Star" radio call-sign is now heard over Fort Rucker air space! The A Company unit patch features the 61st service years, yellow star, Lucky in script, and dice showing 6 & 1.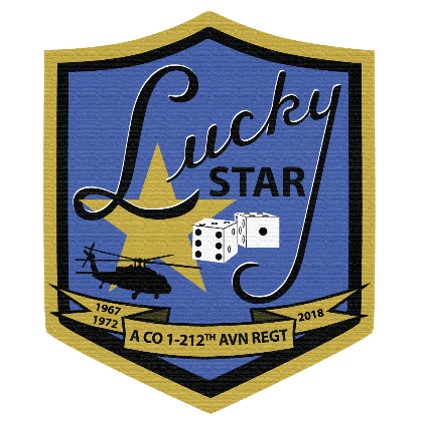 A Company, 1st Aviation Battalion, 212th Aviation Regiment now uses the "Lucky Star" radio call sign and unit crest after being presented with of two letters at a 14 December 2018 ceremony in the Army Aviation History Museum. The approval letter, addressed to the Alpha comany commander and staff, was signed by former 61st company commanders LTG Ellis Parker, FA,(deceased 26 March 2020), and MG Lou Hennies, IN, and COL Emmett Johnson, SC, each US Army retired.
A (Alpha) Company instructors and staff provide advanced training in the Black Hawk helicopter for all US Army & allied country UH-60 pilots. The radio call sign, "Lucky Star", is used by pilots during their UH-60 training. Ft Rucker is the home of the US Army Aviation Center of Excellence.
The 61st had several notable company commanders during its activation. LTG Parker, sometime called the "Godfather of the Army Aviation Branch", was instrumental in forming the aviation branch after the Vietnam war. Army Aviation became a separate branch on 12 April 1983. He was the first and longest serving Aviation Branch Chief with more than five years in that role. General Parker is inducted into the Army Artillery and Aviation Halls of Fame. MG Hennies help to establish the 160th Special Operations Regiment and is inducted into the Army Aviation Hall of Fame. After retiring from the Army, COL Johnson served as the Dean of Auburn University Aviation School.
- - - - - - - - - - - - -
The 61st Post Exchange
Only coffee cups are available.
- - - - - - - - - - - - -
61st KIA Tribute & Name List for Our Brothers Who Died In Service Project - open 2017-22 or until completed
A tribute brick array will cap the 1st Aviation Brigade array and be surrounded by 61stindividual bricks. This also is a great way to support Army Aviation Museum Foundation (AAMF) and give a lasting memory of those who died in service with the 61st AHC. See Contact information below for more information. 61st Border Bricks 2017-22 Ordering ReadyThe AAMF will leave about three rows of bricks around the 61st Aviation Dedication or re-set bricks for us through the end of 2022. The 61st set an example for other units who have followed with their brick groupings. This is a good way to support the AAMF with your brick order. Please print the order form found below to reserve your brick placement in our grouping. A "Buddy-UP" brick can accomodate 2-3 names sharing one brick. The cost is $50 and $75 shared with your buddy. See Contact below to arrange your Buddy-UP brick with Gordon. This is a beautiful and lasting entry to the Army Aviation Museum.
"61st A.H.C. BORDER bricks application